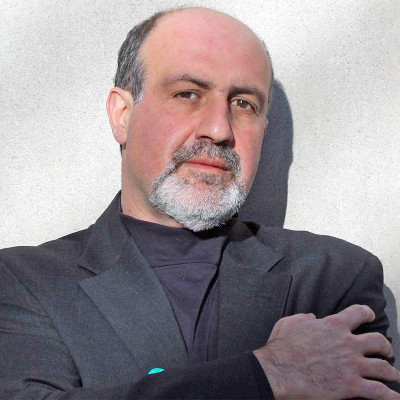 NASSIM NICHOLAS TALEB
Siyah Kuğu'nun Yazarı, Olasılık, Belirsizlik ve Raslantısallık Kuramcısı, Risk Mühendisiliği Profesörü @
Filozof, rastlantısallık konusunda bilgin, deneme yazarı, risk yönetimi konusunda uzman.
Bildiğimizi sandığımız birçok konuyu ele aldığı; New York Times bestseller'ı Siyah Kuğu- Olasılıksız Görünenin Etkisi kitabının yazarıdır. Kitapta "siyah kuğ"u üç ana karakter özelliğiyle beklenmedik hadiselere sembol olarak kullanmıştır: öngörülemez olması, kitleleri sürükleyici olması ve yaşanan birçok şeyi daha açıklayıcı kılmak için bizler tarafından anlam yüklenmesi. Esasında "Siyah kuğu" dünyamız ile ilgili her şeyin temelini oluşturuyor; dinlerin doğuşundan gündelik hayatımızda yaşadıklarımıza kadar. Kitapta okuyucuya "siyah kuğu"larla başa çıkmanın basit yöntemlerini anlatıyor; onlardan nasıl faydalanabileceğimizi ve olaylara bakış açımızı nasıl değiştirebildiklerinden bahsediyor.
Taleb bundan önce önemli bankalarda risk ve varlık yöneticisi olarak çalışmıştır. 1999-2008 yılları arasında bireysel olarak olağanüstü olaylara karşı portfolyo yönetimi üzerine çalışmalarını yoğunlaştırmıştır.
Yazmış olduğu kitaplara ve makalelerine ek olarak, Fortune dergisi tarafından  "The Smartest Books of All Time" listesine layık görülen Fooled by chance: The Hidden Role of Chance in Life and in the Markets kitabının yaratıcısıdır. 27 dilde çevirisi yapılan kitapları, 1 milyon adetten fazla basılmıştır.
London Business School'da konuk profesör olarak görev yapmaktadır. Düzensizliğe karşı gelebilecek güçlü sistemlerin nasıl yaratılabileceği, sahip olmaları gereken özellikler üzerine çalışmaktadır.
Bilgiyi gösteri toplumunun bir aktivitesine dönüştüren her türlü onuru ve ödülü reddediyor.