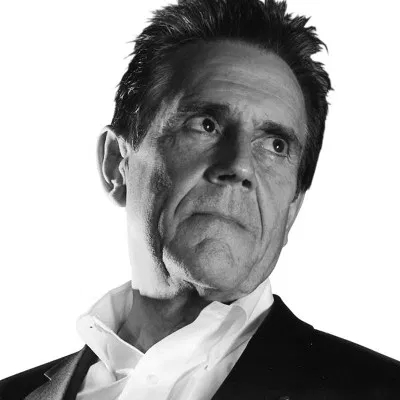 DAVE TROTT
Creative Director GGT
Born in East London
Left school at 16 to be engineering apprentice.
Hated factory life, so I went to art school: East Ham Tech, where I used to draw Quentin Crisp in the nude (him not me).
Got a Rockerfeller Scholarship to go to art school in New York: Pratt Institute.
Studied advertising at Carl Ally on Madison Avenue.
Worked as a deckhand on a Danish tramp steamer to South America.
Came back to London in 1971.
Worked in a bank while I sent copies of my portfolio to fifty ad agencies.
Got hired by John Webster at BMP, who's won more advertising awards than anyone else in history.
We did a lot of great work (ask me for details if you're interested).
We won a lot of awards.
I became deputy creative director.
In 1980 I left to start my own agency: Gold Greenlees Trott.
In our first year we were voted the best agency in the UK by Campaign magazine.
In our fourth year we were voted best agency in the world by Ad Age magazine, New York.
We did a lot of great work (again, ask me for details if you want) and won a lot of awards.
I started the D&AD Advertising Concepts Workshops, which ran for over thirty years.
Over the years I've trained hundreds of young creatives.
Many of them now run their own agencies, in the UK or abroad.
In 1990 I left GGT to start Bainsfair Sharkey Trott, with the joint CEOs of Saatchi & Saatchi.
In 1993 I left BST to start Walsh Trott Chick Smith.
In 2001 it changed to Chick Smith Trott.
In 2008 we merged with The Gate, and I became Chairman.
I left in 2012.
In 2004 I received the D&AD President's Award for lifetime achievement.
I also have the same award from The Creative Circle, The Marketing Society, and The Scottish Advertising Assoc.
I've published three books:
Creative Mischief
Predatory Thinking
1 + 1 = 3
The first one is out of print.
The publisher for the second two (in hardback and paperback) is Pan Macmillan.
I write two weekly blogs.
One on my own site and one for Campaign.
I have about 25,000 followers on Twitter.
Currently I do consultancy work, freelance for clients.
My wife is an art director.
My daughter is an art director.
My son is a copywriter.
Both kids went to St Martins, we are an art school (creative) family.