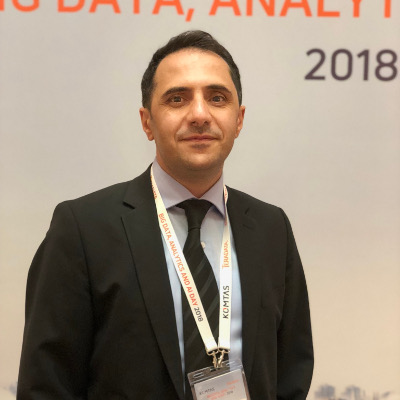 ÖZGÜR KAYNAR
Senior Industrial Consultant KOMTAŞ
Özgür Kaynar, who completed his undergraduate studies at Computer Engineering department of the Middle East Technical University, and started his business life at Koçbank Bilgi Teknolojileri division in 1994. As the lead of the team who commissioned the Data Warehouse at Koçbank in 2000, he, right after the installation of Data Warehouse, helped develop many vertical applications such as Customer Profitability, Operational CRM, Campaign Management and Senior Management Reporting systems for many different business groups across the bank.
He played an active role during Koçbank-Yapı Kredi Bank merger in late 2006. After the merger, he helped many vertical solutions to be rolled out at the bank's credit card, retail marketing, risk management, finance management and inspection teams in collaboration with the data warehouse and business acumen team. BASEL II, Risk Monitoring, CRM, Fraud systems, Instant campaign management in particular can be cited among such solutions.
Özgür Kaynar who has been leading other software teams apart from Data warehouse since 2010 was a part of the management team that commissioned the Information Technologies and Banking Transformation Program that was started in this period.
In later 2012, he resigned from Yapı Kredi Bank and started working as a senior sector consultant for Teradata technology company specializing in data analysis. Along with the said position, he plays an active role in the field of generating the road map for and rolling out projects of Analytic Data Transformation and Data Governance in parallel to Digitalization Transformation programs at many private sector companies.
Since 2018 he has been working as a Senior Industrial Consultant within the structure of Komtaş.