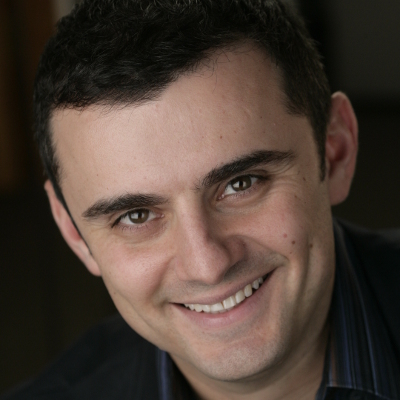 GARY VAYNERCHUCK
Ceo @ VAYNERMEDIA
Sosyal medya konusunda markalara danışmanlık hizmeti sağlayan bir ajansın CEO ve kurucu ortağı olan Gary Vaynerchuck video blogger'lık, sosyal medya ve marka yapılandırma/e-ticaret konusunda hem yazarlık hem de konuşmacılık yapmaktadır. Aynı zamanda şarap ve şarap tadımı konusunda uzman isim olan Gary Vaynerchuck operasyonunu New Jersey'de yürüttüğü bir şarap perakende satış mağazasının da sahibidir.
Gary kendini bildi bileli girişimci olarak tanımlıyor. Daha küçük bir çocukken yaşadığı Edison NJ mahallesinde limon sıkmayı öğrenip, 7 farklı limon standında satış yapmış. Lise yıllarında ise aile işini öğrenip Shoppers Discount Liquors'de alkol satışı yapmıştır. Bununla beraber şarap konusunda uzmanlaşmıştır.
In 1997 yılında e-ticaret'in önemini farketmesiyle beraber WineLibrary.com fikriyle ortaya çıkıp, 3 milyon dolarlık iş hacminden 45 milyon dolarlık iş hacmine çıkartmıştır. 2006 yılında Wine Library TV'i de başlatınca, şarap konusunda bilgisi ve tutkusunu bu konuda ihtiyacı olan topluluklarla paylaşmaya başlamıştır.
2009 yılında kardeşi Aj ile beraber VaynerMedia isimli yeni bir ajansla Fotrune 500 şirketlerine (GE, PepsiCo, Green Mountain Coffee, the NY Jets and the Brooklyn Nets) sosyal seslerini kazanma ve dijital markalarını yaratma konusunda destek vermeye başlamıştır. Bu fikirle çıkılan yolda 6 kişiyle başladıkları ekiplerini 4 sene sonra 250 kişilik güçlü bir takıma dönüştürmüşlerdir. Şu anda tecrübelerini tüm iş sahipleri ve Tumblr, Path, Grand St and Uber gibi start up şirketlerle paylaşmaktadır. Aynı zamanda hikaye anlatımı –story telling konusunda da "Jab, Jab, Jab, Right Hook" isimli bir kitap çıkaracaktır.